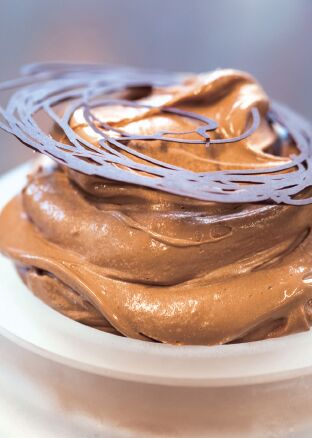 ICE CREAM COURSES
Gelato, Ice Cream and Frozen Desserts
Embrace the expansive world of frozen desserts with this incredible ice cream class.
OBJECTIVES OF THE CLASS
• Learn from the industry appointed expert about ice cream and sorbet technology, focusing on ingredients and creating balanced recipes
• Explore the possibilities for ice cream and sorbet such as vegan and gluten-free
• Prepare a range of frozen desserts including individual frozen cakes, ice cream bars and popsicles, and desserts in a glass
• Learn techniques to work around the limitations of temperature and expand your idea of what ice cream can be
• Engage in an open discussion and lecture about the science and composition of ice cream, gelato, sorbet, vegan, and gluten-free frozen desserts
PRICES INCLUDE
Class price includes croissants and coffee in the morning, lunch each day, a class recipe book, apron, travel mug, pen, as well as all materials, ingredients, and equipment needed for class. In response to Covid the class price no longer includes a group dinner or professional photographer, the class price has been lowered to reflect this change.
CONTENT OF THE CLASS
Learn the science of gelato and ice cream from expert L'École Valrhona Pastry Chef Christophe Domange, who was part of the winning team at the 2018 Gelato World Cup. This class features classic ice cream recipes, vegan and gluten-free ice cream, frozen desserts, gelato, and sorbet. Chef Domange will teach you how to pair flavor profiles to layer in ice cream pints and add swirls of flavors and textures.
In addition to expertly crafted ice creams and gelatos, you will learn how to create a range of individual frozen cakes, bars, popsicles, sorbets, and discover traditional ice cream recipes and their reinterpretations as ice cream desserts.
This course offers an intensive in-depth study of balancing and recipe creation techniques for gelato & ice creams. Focusing on the technology and science behind ice cream as well as vegan and gluten free frozen desserts.
CANCELLATION POLICY
If you cancel 45 days or more prior to the first day of class, you will be completely refunded. If you cancel within 45 days you will receive a 50% refund or 100% class credit to be used within a year of the cancellation date. If you cancel within one week of the class you will receive a 50% class credit to be used within one year of the cancelation date.
We do our best to avoid canceling or rescheduling classes, however, please be aware that classes are subject to change due to conflicts, instructor illness, travel issues, etc. We will contact you immediately in case of any date changes or course cancellations. In the case a class is rescheduled or canceled we offer you the choice of a full refund or a class credit to be used within one year of the cancellation date.
As Valrhona is not responsible for your accommodations we recommend booking refundable forms of transportation and accommodations, so if an unforeseen change occurs you will not be charged.