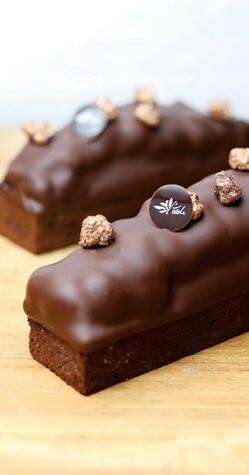 PASTRY COURSES
Travel Cakes
Take this class to enhance your pastry case and bakery offering with travel cakes.
OBJECTIVES OF THE CLASS

Explore different and unusual flavors, fillings, and ingredients in pastry like condiments or spices
Learn how to extend the shelf life and preserve your travel cakes
Practice tempering different kinds of Valrhona chocolate
Give a new look to your Travel Cakes and offer a new product range to your customers
Understand gluten-free and dairy-free ingredients, and how to use them in your creations

PRICES INCLUDE
Class price includes croissants and coffee in the morning, lunch each day, a class recipe book, apron, travel mug, pen, a professional photographer, as well as all materials, ingredients, and equipment needed for class. In response to Covid the class price no longer includes a group dinner, the class price has been lowered to reflect this change.
CONTENT OF THE CLASS
Loved because of their longer shelf life and transportability, travel cakes, madeleines, and financiers have become popular among customers on the move in hotels, bakeries, and pastry shops. Come learn from l'École Valrhona Pastry Chef Guillaume Roesz how to make traditional French travel cakes, along with more modern interpretations.
Chef Roesz will explain how to adapt travel cake recipes to accommodate customers with dairy and gluten intolerances, without compromising texture and taste. You will understand how different gluten-free flours and dairy-free ingredients work so you feel confident using them in your own cakes. Elevate your travel cakes by learning new filling recipes such as streusel, caramel, compote, confit, ganache, and meringue. Of course, appearance matters too! You will explore the different possibilities to add attractive looks to your products including different shaped molds, glazes, and chocolate décor. Chef Roesz will demonstrate how to temper chocolate and properly apply glazes to ensure consistent shine, thickness, and shelf life.
In this open format class setting, Chef Roesz will discuss various preservation techniques, and how to conserve your travel cakes in your display.
CANCELLATION POLICY
If you cancel 45 days or more prior to the first day of class, you will be completely refunded. If you cancel within 45 days you will receive a 50% refund or 100% class credit to be used within a year of the cancellation date. If you cancel within one week of the class you will receive a 50% class credit to be used within one year of the cancelation date.
We do our best to avoid canceling or rescheduling classes, however, please be aware that classes are subject to change due to conflicts, instructor illness, travel issues, etc. We will contact you immediately in case of any date changes or course cancellations. In the case a class is rescheduled or canceled we offer you the choice of a full refund or a class credit to be used within one year of the cancellation date.
As Valrhona is not responsible for your accommodations we recommend booking refundable forms of transportation and accommodations, so if an unforeseen change occurs you will not be charged.
Our response to Covid
We will be taking every safety precaution and following all local and CDC guidelines as we prepare for and host these classes beginning in April. The health and safety of our community and team is our first priority, and we will be constantly updating our plans and precautions to ensure maximum safety. We have revised our cancellation policy to be more flexible during these uncertain times. If you have any questions please contact ecolebrooklyn@valrhona.com