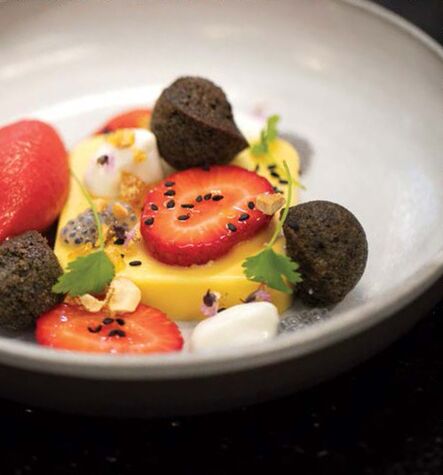 PLATED DESSERT COURSES
Plated Desserts & Petits Gâteaux
Join Patrice Demers, one of the most popular and renowned pastry chefs in Canada, for his hands-on
plated desserts class.
OBJECTIVES OF THE CLASS

Learn Chef Patrice's technique to create desserts in which every ingredient has a purpose
Create some of the best sellers sold at his pastry shop, including petits gâteaux, entremets and plated desserts
Explore interesting flavor combinations and pairings to create balanced, distinctive desserts
In a relaxed environment, discuss with Chef Patrice his experiences and inspirations as one of Canada's biggest pastry stars
Sharpen your techniques preparing sponges, creams, mousses, sorbet and decorations
Learn new techniques to finish and garnish your cakes using seasonal products.

PRICES INCLUDE
Class price includes croissants and coffee in the morning, lunch each day, a class recipe book, apron, travel mug, pen, as well as all materials, ingredients, and equipment needed for class. In response to Covid the class price no longer includes a group dinner or professional photographer, the class price has been lowered to reflect this change.
CONTENT OF THE CLASS
You will learn the importance of balancing and combining flavors and textures to create seasonal pastries and plated desserts. Discover how to use wild and innovative ingredients such as mushrooms, sweet clover, and flowers to create desserts that your customers will remember.
You will also sit down and discuss the inspiration at Patrice's famous shop, Patrice Pâtissier and dig deeper to gain an understanding behind the day to day business. Patrice will explain how he successfully applied what he learned through practical experience as a restaurant pastry chef to open a pastry shop. Through Chef Demers' class you will learn the knowledge and technical skills to translate daily inspirations into a seasonal menu, as well as the business knowledge you need to run a successful pâtisserie business.
CANCELLATION POLICY
If you cancel 45 days or more prior to the first day of class, you will be completely refunded. If you cancel within 45 days you will receive a 50% refund or 100% class credit to be used within a year of the cancellation date. If you cancel within one week of the class you will receive a 50% class credit to be used within one year of the cancelation date.
We do our best to avoid canceling or rescheduling classes, however, please be aware that classes are subject to change due to conflicts, instructor illness, travel issues, etc. We will contact you immediately in case of any date changes or course cancellations. In the case a class is rescheduled or canceled we offer you the choice of a full refund or a class credit to be used within one year of the cancellation date.
As Valrhona is not responsible for your accommodations we recommend booking refundable forms of transportation and accommodations, so if an unforeseen change occurs you will not be charged.
Our response to Covid
We will be taking every safety precaution and following all local and CDC guidelines as we prepare for and host these classes beginning in April. The health and safety of our community and team is our first priority, and we will be constantly updating our plans and precautions to ensure maximum safety. We have revised our cancellation policy to be more flexible during these uncertain times. If you have any questions please contact ecolebrooklyn@valrhona.com