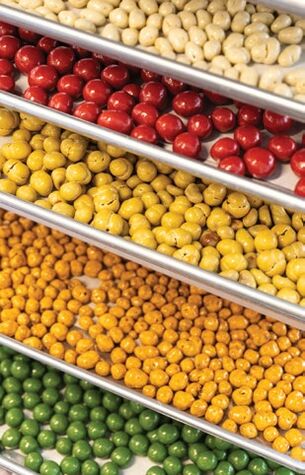 CHOCOLATE COURSES
Panning & Chocolate Snacks
Learn to create a range of chocolate treats for snacking, perfect for indulging in just one bite!
OBJECTIVES OF THE CLASS

Master basic techniques of panning using a stand mixer attachment and a panning machine
Understand and practice the panning process to pan different centers of all shapes and sizes, including nuts, dried fruits, and more
Learn new methods to create small bite-sized snacks such as multi-layered candy bars, marshmallows, caramels, pâte de fruit, and other confections with a variety of fillings
Use a wide range of products to create chocolate-coated treats with single and double layers, intriguing and unique textures, colors, and finishes
Learn the correct products to increase shine for an attractive result
Employ an array of tools and machines for enrobing, panning, and guitar cutting
Apply various finishes, glazes, and décors to enhance your snack creations

PRICES INCLUDE
Class price includes croissants and coffee in the morning, lunch each day, a class recipe book, apron, travel mug, pen, as well as all materials, ingredients, and equipment needed for class. In response to Covid the class price no longer includes a group dinner or professional photographer, the class price has been lowered to reflect this change.
CONTENT OF THE CLASS
Delight your customers and learn how to develop new snackable confections, such as chocolate covered nuts, driedfruit and other ingredients that appeal to a wide variety of customers. Experiment with marshmallowsand caramels to improve your skills.
This hands-on course will help you understand and master both basic and advanced panning techniques. You will leave knowledgeable, confident, and inspired to add these one-bite delights to your range.
CANCELLATION POLICY
If you cancel 45 days or more prior to the first day of class, you will be completely refunded. If you cancel within 45 days you will receive a 50% refund or 100% class credit to be used within a year of the cancellation date. If you cancel within one week of the class you will receive a 50% class credit to be used within one year of the cancelation date.
We do our best to avoid canceling or rescheduling classes, however, please be aware that classes are subject to change due to conflicts, instructor illness, travel issues, etc. We will contact you immediately in case of any date changes or course cancellations. In the case a class is rescheduled or canceled we offer you the choice of a full refund or a class credit to be used within one year of the cancellation date.
As Valrhona is not responsible for your accommodations we recommend booking refundable forms of transportation and accommodations, so if an unforeseen change occurs you will not be charged.
Our response to Covid
We will be taking every safety precaution and following all local and CDC guidelines as we prepare for and host these classes beginning in April. The health and safety of our community and team is our first priority, and we will be constantly updating our plans and precautions to ensure maximum safety. We have revised our cancellation policy to be more flexible during these uncertain times. If you have any questions please contact ecolebrooklyn@valrhona.com