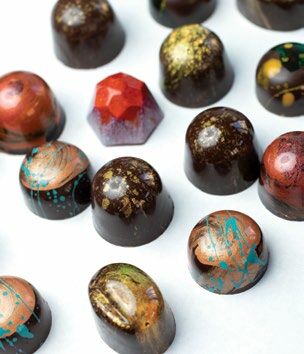 CHOCOLATE COURSES
Molded Chocolate Bonbons
L'École Valrhona shares its chocolate expertise through this course designed to help professionals
create eye-catching molded chocolate bonbons.
OBJECTIVES OF THE CLASS

Use different shaped molds to learn proper shelling and molding methods for molded bonbons
Produce balanced ganaches and fillings using different types of chocolate, alcohol, pralines, fruit pureés, and such as unique flavor combinations
Utilize airbrushing, hand painting, etching, transfer sheets, and other unique techniques for decorating and texturizing -colorful eye-catching molded confections

PRICES INCLUDE
Class price includes croissants and coffee in the morning, lunch each day, a class recipe book, apron, travel mug, pen, as well as all materials, ingredients, and equipment needed for class. In response to Covid the class price no longer includes a group dinner or professional photographer, the class price has been lowered to reflect this change.
CONTENT OF THE CLASS
Learn how to temper Valrhona's range of chocolates, including our unique INSPIRATION range. Explore the different ways to decorate your molded bonbons with cocoa butter, such as air brushing, hand painting, etching, and using Valrhona Signature transfer sheets. Understand the various fillings the molded form allows such as ganache, praliné, soft caramel, and pâte de fruit. You will leave feeling knowledgeable and confident to put your own twist on the techniques you learned.
CANCELLATION POLICY
If you cancel 45 days or more prior to the first day of class, you will be completely refunded. If you cancel within 45 days you will receive a 50% refund or 100% class credit to be used within a year of the cancellation date. If you cancel within one week of the class you will receive a 50% class credit to be used within one year of the cancelation date.
We do our best to avoid canceling or rescheduling classes, however, please be aware that classes are subject to change due to conflicts, instructor illness, travel issues, etc. We will contact you immediately in case of any date changes or course cancellations. In the case a class is rescheduled or canceled we offer you the choice of a full refund or a class credit to be used within one year of the cancellation date.
As Valrhona is not responsible for your accommodations we recommend booking refundable forms of transportation and accommodations, so if an unforeseen change occurs you will not be charged.
Our response to Covid
We will be taking every safety precaution and following all local and CDC guidelines as we prepare for and host these classes beginning in April. The health and safety of our community and team is our first priority, and we will be constantly updating our plans and precautions to ensure maximum safety. We have revised our cancellation policy to be more flexible during these uncertain times. If you have any questions please contact ecolebrooklyn@valrhona.com