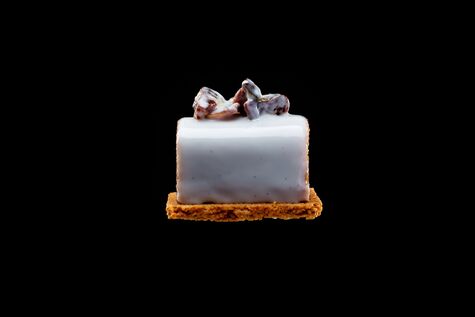 PASTRY COURSES
Mindful & Modern Desserts
In this innovative pastry class, Chef William Werner will share his philosophy of "Vitality" in pastry – creating desserts using ingredients and methods which positively impact the food industry, our planet, and consumer health.
OBJECTIVES OF THE CLASS

Explore ingredients not traditionally used in pastry, and how they interact to create unique flavors.
Learn how sourcing and portion sizing can impact your bottom line.
Make entremets, breads, petits gateaux, and shelf stable confections with plant based and unrefined ingredients to accommodate changing customer desires.

PRICES INCLUDE
Class price includes croissants and coffee in the morning, lunch each day, a class recipe book, apron, travel mug, pen, as well as all materials, ingredients, and equipment needed for class. In response to Covid the class price no longer includes a group dinner or professional photographer, the class price has been lowered to reflect this change.
CONTENT OF THE CLASS
Chef Werner will exercise his mindful approach to pastry and baking, focusing on seasonality, progressive ingredients, plant based and vegan recipes, and desserts with less refined sugar. In this class you will make a wide variety of bakery offerings including entremets, breads, petits gateaux, and shelf stable confections with a modern twist.
Take this cutting-edge class to freshen up your dessert offerings, get inspired by new ingredients, and challenge the way you think about pastry. Chef Werner's approach to conscious consumption will help you take a deeper look at the ingredients you use and the flavors represented on your menu. Learn how to incorporate seasonality and sustainability into your production by exploring plant based components, looking at portion sizing, and integrating more local and seasonal ingredients. Known for his eye catching and elegant pastries, Chef Werner will also show you how to add color, texture, and décor to your desserts using natural and unexpected ingredients.
CANCELLATION POLICY
If you cancel 45 days or more prior to the first day of class, you will be completely refunded. If you cancel within 45 days you will receive a 50% refund or 100% class credit to be used within a year of the cancellation date. If you cancel within one week of the class you will receive a 50% class credit to be used within one year of the cancelation date.
We do our best to avoid canceling or rescheduling classes, however, please be aware that classes are subject to change due to conflicts, instructor illness, travel issues, etc. We will contact you immediately in case of any date changes or course cancellations. In the case a class is rescheduled or canceled we offer you the choice of a full refund or a class credit to be used within one year of the cancellation date.
As Valrhona is not responsible for your accommodations we recommend booking refundable forms of transportation and accommodations, so if an unforeseen change occurs you will not be charged.
Our response to Covid
We will be taking every safety precaution and following all local and CDC guidelines as we prepare for and host these classes beginning in April. The health and safety of our community and team is our first priority, and we will be constantly updating our plans and precautions to ensure maximum safety. We have revised our cancellation policy to be more flexible during these uncertain times. If you have any questions please contact ecolebrooklyn@valrhona.com