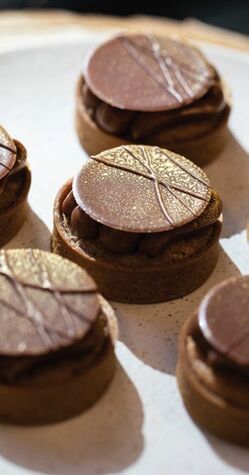 PASTRY COURSES
Individual Seasonal Desserts
Upgrade your seasonal offerings during this class taught by l'École Valrhona Pastry Chef Sarah Tibbetts.
OBJECTIVES OF THE CLASS
• Explore the roles of flavor and texture in smaller bite-sized desserts
• Learn to create visually appealing desserts and presentations with seasonal inspiration
• Create desserts in a small bite-sized format, including verrines, composed tarts, truffles, macarons and various petit fours.
• Techniques will include various pastry applications, tempering, and how to make chocolate décor pieces
• Recipes featured will have versatility in size and application, be adaptable to various temperatures, along with seasonally inspired flavor and color combination, and presentation
PRICES INCLUDE
Our response to Covid: We will be taking every safety precaution and following all local and CDC guidelines as we prepare for and host these classes beginning in April. The health and safety of our community and team is our first priority, and we will be constantly updating our plans and precautions to ensure maximum safety. We have revised our cancellation policy to be more flexible during these uncertain times. If you have any questions please contact ecolebrooklyn@valrhona.com
CONTENT OF THE CLASS
Whether you're planning a wedding, corporate event, holiday celebration, or are looking for inspiration to invigorate your menu, learn from the expert at L'École Valrhona Brooklyn.
Recipes highlighted in this 2-day class will focus on individual seasonal dessertcreations that can be adapted to suit various outlets.
With her extensive experience at the Bellagio, Wynn Hotel and Ritz-Carlton, Chef Tibbetts will share her pro tips on how to efficiently cross utilize the product and modify the size to accommodate different types of events. This course focuses on creating individual single portion desserts to be displayed or passed, with options for dine-in and carry out.
The class will focus on seasonal colors and holiday flavors, highlighting new and innovative products.
CANCELLATION POLICY
If you cancel 45 days or more prior to the first day of class, you will be completely refunded. If you cancel within 45 days you will receive a 50% refund or 100% class credit to be used within a year of the cancellation date. If you cancel within one week of the class you will receive a 50% class credit to be used within one year of the cancelation date.
We do our best to avoid canceling or rescheduling classes, however, please be aware that classes are subject to change due to conflicts, instructor illness, travel issues, etc. We will contact you immediately in case of any date changes or course cancellations. In the case a class is rescheduled or canceled we offer you the choice of a full refund or a class credit to be used within one year of the cancellation date.
As Valrhona is not responsible for your accommodations we recommend booking refundable forms of transportation and accommodations, so if an unforeseen change occurs you will not be charged.
Our response to Covid
We will be taking every safety precaution and following all local and CDC guidelines as we prepare for and host these classes beginning in April. The health and safety of our community and team is our first priority, and we will be constantly updating our plans and precautions to ensure maximum safety. We have revised our cancellation policy to be more flexible during these uncertain times. If you have any questions please contact ecolebrooklyn@valrhona.com