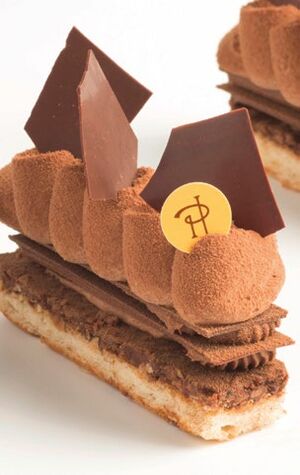 ARTISTIC CHOCOLATE COURSES
Creative Pâtisserie with Pierre Hermé
L'École Valrhona is thrilled to offer this exclusive trip giving you the opportunity to explore and be inspired by the world of Maison Hermé.
CONTENT OF THE CLASS
Join the l'École Valrhona Team for a one-of-a-kind pastry class taught by the Pastry Chefs from Pierre Herme's R&D, at a state of the art kitchen in Paris, France. During this class, you will learn how to create petits gâteaux, entremets, macarons, and bonbons in the famous Pierre Hermé style. This trip features an exclusive tour by Pierre Hermé of his lab in Rungis, followed by an open discussion with Pierre Hermé about sourcing. The group will also visit one of Pierre Hermé's shops with a product tasting led by Pierre Hermé. The trip will finish on Thursday with a pastry tour through Paris specially designed for the group.
PRICES INCLUDE
The price of $5,200 includes all meals, activities, hotels, and transportation excluding flights. Deposit of $1,500 due upon course registration to secure your spot. Full balance due by June 12, 2021.
Transportation:
Please note the flights are not included in the course fee. Please coordinate your flights so that you arrive in Paris by October 10th. Return flights can be coordinated from Paris on October 15th.
CANCELLATION POLICY
If you cancel 45 days or more prior to the first day of class, you will be completely refunded. If you cancel within 45 days you will receive a 50% refund or 100% class credit to be used within a year of the cancellation date. If you cancel within one week of the class you will receive a 50% class credit to be used within one year of the cancelation date.
We do our best to avoid canceling or rescheduling classes, however, please be aware that classes are subject to change due to conflicts, instructor illness, travel issues, etc. We will contact you immediately in case of any date changes or course cancellations. In the case a class is rescheduled or canceled we offer you the choice of a full refund or a class credit to be used within one year of the cancellation date.
As Valrhona is not responsible for your accommodations we recommend booking refundable forms of transportation and accommodations, so if an unforeseen change occurs you will not be charged.
Our response to Covid
We will be taking every safety precaution and following all local and CDC guidelines as we prepare for and host these classes beginning in April. The health and safety of our community and team is our first priority, and we will be constantly updating our plans and precautions to ensure maximum safety. We have revised our cancellation policy to be more flexible during these uncertain times. If you have any questions please contact ecolebrooklyn@valrhona.com